SEO PowerSuite is a true all-in-one SEO software for link checker, backlink generation, keyword research, and everything else you can think of for your SEO campaigns.
SEO PowerSuite provides you with every step of an SEO campaign of any caliber, from rankings to on-page to backlinks. With its intuitive UI and a wealth of pro-level features, it's a perfect fit for SEO newbies and experts alike.
70%-off SEO PowerSuite sale is live!
The best offer works for just 1 day. 

Tomorrow

 (at 

9 AM

) the discount drops to 65%, and 

on Thursday

 it goes down to 60%. The countdown has just begun, so jump for the BEST DEAL now.
This offer is 100% risk-free – you are covered with an unconditional 30-day money-back guarantee, so grab this bargain now before the discount drops!
Cheers,
Aleh Barysevich
Founder at SEO PowerSuite
SEO PowerSuite offers unlimited sites, keywords, and backlinks to track, and a wealth of features you won't find anywhere else, many of which are available in the free version. The catch? There isn't any. Because it's a desktop platform, we don't have to pay for hundreds of servers to process your data. That's why SEO PowerSuite is at least 3X cheaper than other SEO tools – and infinitely more flexible and feature-rich.
Branded SEO reports.
SEO PowerSuite's reports are white-label, fully custom, and designed responsively, so they look their best on any device. Sharing and delivery is super easy: a click of a button will upload your report to the cloud and give you a shareable link, and the automatic report mailer will deliver reports to clients on your schedule, as a direct link or attachment, in a plain text or custom HTML email.
Automatable tasks.
A 2-minute setup is all it takes to automate your SEO jobs, from rank tracking, site audits, and backlink checks to reporting. SEO PowerSuite lets you schedule tasks at any time and frequency – so that you can have all the work done by the time you walk into the office.
Hi,
I'm Alex, Head of Customer Care at SEO PowerSuite. If you have not downloaded the software yet for a free trial of the professional version, here are  some helpful tips.
SEO PowerSuite is made up of 4 apps, each focusing on a certain aspect of SEO. Used together, these tools will cover your entire SEO routine, from A to Z.
Unlimited rank checking
Unlimited keywords & websites to track
450+ global and local search engines
Geo-specific rankings for any country/town/area
Universal search rankings (Places, Images, etc)

Tracking ranking progress

Comparing rankings to any previous date
Ranking progress graphs
Ranking history from day one
Ranking impact of Events (Google algorithms, changes on your site, etc.)

Keyword ideas from 20 sources

Google AdWords' Keyword Planner
Google Analytics
Google Webmaster Tools
Competitor sites' research
KEI (Keyword Efficiency Index)
Keyword Difficulty
Search volume
Keyword competition

20 keyword tools in one.

All your favorite keyword research tools are integrated right into Rank Tracker: AdWords Keyword Planner; Competition research and Keyword Discovery; Google Trends, Related Searches, and Autocomplete; and Google Analytics and Search Console for terms you already rank for. Used together, these sources will give you thousands of keywords you wouldn't have found elsewhere. As you find keyword ideas, Rank Tracker will automatically group them by topic, so you can analyze and target entire keyword groups instead of going through the countless terms one by one.

Geo-specific rankings
for any location.

Looking to track rankings for a location different than your own? Or, perhaps, a few of those? You've come to the right place. Rank Tracker is the only tool that accurately tracks positions for any custom location of your choice: country, state, city, or even an exact street address. Like everything else, these locations are — you guessed it — unlimited.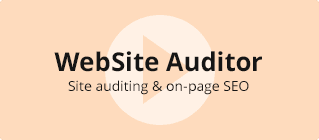 The SEO spider that sees your
site like search engines do.
Just like search engine bots, WebSite Auditor digs diligently through your entire site to find and audit every resource, both internal and external: HTML, CSS, JavaScript, Flash, images, videos, and more. The tool also lets you crawl your site as Google, Bing, or Yahoo, following robots.txt instructions for any bot, so you can see and analyze the same pages of your site that search engines see.
Locating & fixing SEO issues
Pages with 4xx and 5xx response codes
Poorly set up 404s
Indexing and crawlability issues
Mobile friendliness

Stats for all site's pages

PA/DA
Google PageRank
Social media likes/shares
Page visits

Thorough technical
site auditing.

WebSite Auditor will quickly reveal every issue on your site that can affect search engine indexation, rankings, and user experience: broken links and images, duplicate content, poor mobile usability, redirect chains, internal linking problems, heavy pages and scripts, W3C validation errors, thin content, and more. The best part? For every error you find, you'll get a list of pages it affects along with specific, step-by-step how-to-fix instructions.

Robots.txt and Sitemapgenerator.

Easily generate an XML sitemap or robots.txt file at a click of a button, without bothering about the files' tricky syntax. Already have a sitemap and robots instructions in place? Review and edit the files right in the app, whenever you need to, and upload the changes to your site instantly via FTP.

Intelligent on-page SEO audit.

Measure optimization rates for any page and any keyword, based on the pages of your top ranking competitors and your own on-pages stats. Get keyword- and page-specific optimization advice, and reverse-engineer your competitors' strategies to see exactly what makes them rank high.

In-app content optimization.

WebSite Auditor does more than analyze your content. It lets you optimize pages in-app — in a user-friendly WYSIWYG interface or HTML — with step-by-step SEO advice as you type. In a separate tab, you can create and edit your pages' title and meta description tags, and preview your Google snippet right below. Done optimizing? A single click will save the SEO-perfect HTML to your hard drive, ready for upload.
All links to any site from the most up-to-date index.
Find all links to any domain with the Web's freshest backlink index, SEO PowerSuite Link Explorer, unique to SEO SpyGlass. To make sure your list of backlinks is unbeatably comprehensive, the tool also lets you pull links directly from Google Analytics and Google Search Console — an integration you won't find in any other backlink checker.
Powerful analytics.
The Summary module will give you comprehensive analytics on all links to any site — yup, even if it's millions. Looking to dig deeper into these stats? Go to Backlinks for details on every link, Linking Domains for an in-depth analysis of each referring domain, and Anchors & Pages for stats on anchor text and linked-to URLs.
Don't miss a single link that can cause a Google penalty. Quickly identify spammy and harmful links with SEO SpyGlass' Penalty Risk metric, calculated based on the same factors Google is known to use in algorithmic and manual penalties.
Detected a threat? Neutralize it in a few clicks using the built-in disavow file generator, without having to bother about the tricky syntax of Google disavow files.
Competitors' backlink Revealed
Full list of competitors' backlinks
Details on each link (dofollow/nofollow, anchor text, page title, etc)
Backlink quality stats (PA/DA, PageRank, domain age and IP, social popularity, Link Value, etc)
Link profile overview

Link profile comparison

Handy Project Comparison dashboard
Up to 5 websites to compare
Side-by-side crucial backlink factors' comparison (total link count, linking domains, links from homepage, top TLDs, anchor diversity, etc)
Overall rating for every profile

Competitors' SEO tactics revealed

Side-by-side overall SEO comparison
Side-by-side ranking comparison
Side-by-side backlink profile comparison
Detailed overview of top 10 competitors' SEO (backlinks, content, PA/DA, etc)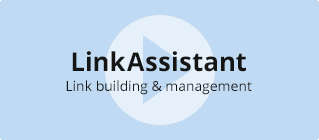 High quality link prospects.
Gather all kinds of stats and insights with one click to check the value of potential links. You'll see the value of the prospect by looking at its quality factors, such as Page/Domain Authority, Domain age, Alexa, social media metrics, etc. LinkAssistant makes sure you avoid all potentially harmful links!
Choose your research technique from 10 most effective prospecting mechanisms (guest posting, directories, reviews – you name it), or create your own research method with any search operators of your choice. In seconds, LinkAssistant will find hundreds of most relevant prospects for you. This is a huge time-saver for any SEO.
Easy outreach right from the app.
Gather all contact emails automatically and contact link prospects straight away, right from the app. Use handy email templates for every type of outreach to make your emails feel personal, or create your own templates. Easily track sents and replies, flag important emails so you don't forget to reply or follow up. Stay in touch without any effort and get the links you are after or delete the links you don't approve of.
One-click link verification.
Run regular link checks to make sure your acquired links don't get taken down, switched to no-follow, or have the wrong anchors. Contact partners right away if a link fails verification!
In a nutshell, here's what you get with SEO PowerSuite:
●  One-stop SEO tools. From keyword research to link building, this toolkit will take care of every SEO task you can think of.
●  Unlimited data. You know how SEO apps have those "2 websites, 50 keywords, 200 backlinks" limits? Forget those. You can have just as much of anything as you need with SEO PowerSuite – at no extra cost.
●  Automated tasks. Set things up once, and have all your SEO tasks run on autopilot, with any frequency.
●  White-label reports. Completely custom, designed responsively, insanely data-rich, and totally automatable. Yum!
●  Top-notch support. Our support is free for all users, available 7 days a week, and also the cutest (refer to the photo below for proof).
Cheers,
Alexander Maximov
Head of Customer Care
Link-Assistant
"If you don't want to hire professionals to fix up your site, SEO PowerSuite is your DIY alternative. Even with thousands of data points, the reports generated by SEO PowerSuite are easy to read and analyze. Most importantly, this package of powerful SEO tools makes all that data actionable."
Cult of Mac
Originally posted 2017-10-29 12:28:46.